PASTOR'S NEWSLETTER

The summer season ends with a look to the coming fall with the dying vegetation and the cooling of the temperatures. Vacations are over, reunions are complete, and the children are back to the dreaded return to school. Ho hum! Not so fast! It is not a time for sadness and despair, but joy and hope. It is the season for Revival. We will be having our fall revival from October 3rd through 8th. This should give us new a chance to experience Spiritual renewal. It can be likened unto preparing ourselves physically for a coming winter.
When I worked on the farm we would "winterize" it for the coming winter. We would cover and protect all equipment that would not be in use in the winter season. And would make sure the roofs, the doors, and windows of barns and sheds were properly sealed to keep out the precipitation that could leak in and during cold weather and freeze. Hay would be dry stored or properly covered to prevent rot and loss of their nutrition for the animals. Antifreeze levels in equipment were checked for proper levels for winter use. One thing I remember was a tractor that was used for snow removal. The plow used on this tractor would be attached in good weather, all lines checked for proper operation and tire chains were placed in a tool type box to be quickly removed and placed on tires in snowy and icy weather.
How much more should we prepare our souls so that when a season of trials and temptations come we have the strength to endure victoriously. As sure as we know there is a winter season that will come there is a time of trials and temptations as well. We need to strengthen our faith, our desire, our love, and our commitment to God for such a time.
The time of revival has some interesting features that often time we as Christian's fail to take into account. Let us consider a few of these things and how they may pertain to us.
Have we let down in our Christian duties? Many times, Christians have let down in their Christian duties. Many who have backslidden often speak of having lost their prayer lives, quit reading the Bible, and slacked off in their Church attendance. We may think it would be alright to maybe miss once but if we are not carful we can look back and realize it may be a while since we made these things a part of our daily life. How long has it been since we paid our tithes? How long since we witnessed to someone?

Have we lost true desire and serve and worship God as a ritual? While once we involved ourselves in the songs, prayers, and took notice and maybe notes of the Sunday School lessons, the Pastor's sermon, or Bible Study? Church can become a routine and it is not God's fault it is our own.

Have we lost the vision? Do things just look at everything as terminal and do not have a vision of God delivering us? Do we have a vision for our Church? Do we have a vision for our Ministry? Do we have a vision of lost souls and the importance of winning them to the Lord? Do we involve ourselves in outreach and Missions?

Have we lost our effectiveness? Does it seem to us that our witness has no effect? Do we feel that people do not look at us and respect us as a Christian? Are we not provoking questions from others about Spiritual things?

Have we sinned? Often, we can quickly pick out, or judge someone, as being in sin and have failed in some way and yet not examine ourselves to see if we have? One of the greatest failures of many professing Christians is thinking they are beyond failure or improvement. But a true Christian is one who will examine themselves and see if they need help. The Christian who is growing, happy, and satisfied are those who search themselves. A true Christian is one that does not assume they are alright with God, but will examine themselves to be confident they are alright with God.
We as a Christian, and as a Church, should examine ourselves from time to time to see where we are. I truly believe Christians want to be where God wants them to be. The revival season is a time for Christian's to prepare themselves. Then sinners can be saved!
In Christian Love,
Pastor Bruce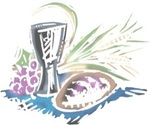 September Communion Helpers: September 24 (PM)

September Greeters:
Gary & Vanessa Shoemaker
Special Need: Greeters are Still Needed!
We still could use 3 or 4 more people.