PASTOR'S NEWSLETTER

MY, what a wonderful time we had during VBS. The story on time and eternity were very good. The play was interesting, funny, and instructive. We had quite a few workers who served with joy and concern for the children. We had some lively songs and a new "Youth Praise Team." The finale picnic had to be all in doors as the rains came and washed out the outside games, but we had a good time inside. The Sunday Morning program was touching and very much a blessing to the Church. So many spoke of how they enjoyed it. The race in the offering between the Red Robot and the Green Robot was funny and a blessing. But the greatest thing was that 23 youth prayed about accepting Jesus as their Savior.
We are now entering the Camp Meeting season with Mount of Praise Camp ending today. Then Nipgen Camp will be coming in July. We also have a great outreach for the Church and that is our "Back-to-School Give-a-way." This is a great way for our Church to outreach into our Community. This will be August the 11th and we can use a lot of volunteers with good attitudes and a desire to help.
While we continue to look at the importance of outreach for our Church we must realize that it takes God and His anointing by the Holy Spirit to be effective. While anything we do may have some effect yet for true effect on the lost it takes God's Anointing. While we are counting on that there are some important things we must we follow as well.
We must have a burden for lost people. We may fish and catch a fish once in a while, but unless we possess a sincere concern for lost people we will never become as successful as what God can make us be. It says in Proverbs 11:30 "he that winneth souls is wise." So not only should it be a burden but also our responsibility.

Next, we must possess a proper attitude. We must be sincere, loving, and concerned. It has often been said people can see the difference people who serve because feel as though they have to, or because they want too. We must remember that we may be the only view of Jesus someone may see. We need show people the best possible view they can see of Jesus!

Prayer is always the greatest tool. We must pray before we ever put forward our action. We need the leadership of the Spirit to salt every word and action. We need His leadership of when to act and speak. We want to be sure the Holy Spirit is felt by all in our actions. That way they might forget our name or face, but they will never forget encountering the Holy Spirit.

We must trust God. It is He that we depend on Him. There is nothing like knowing when we have done all we can do that God will do the rest. There are those we have casted our perils before the swine. But there are the "whosoever will" and the "such as should be saved" who we can affect. It is God who knows the hearts of mankind. And it is He in whom we must trust and depend on.
So High Street let us continue to care and reach out to touch the souls of the lost. I am sure we all have family and friends we want to see saved. We may see ours saved by the help of another person. And we may be the one to help save that person's family and friends. Let us all do our best for the Lord.
In Christian Love,
Pastor Bruce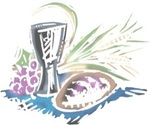 July Communion: July 29 (PM)

July Greeters
Sharon Herron
Debbie Dixon
Stephanie Dixon

Special Need: Greeters are Still Needed!
We still could use 3 or 4 more people.