PASTOR'S NEWSLETTER

The time of Easter and the celebration of the resurrection of our Lord and Savior Jesus Christ! What a great time of the year! This is the accomplishment of the work of Christ Jesus. Jesus came to this earth as a baby in preparation of the day He would go to the cross and there die for the sins of the people, the whosoever wills and the such as should be saved. Then we all are well aware of the story of how on the third day He arose again from the dead and gained the assurance of eternal life for all who accepted salvation. The Easter season has so many events associated with it that we need to remember the whole story.
Easter is about:
1. Betrayal – How that our Savior was betrayed by so many, many who even said that they loved Him.
A. It was betrayal by a follower who for thirty pieces of silver gives Him a kiss of betrayal. A man chosen to be their treasurer to keep the funds of the Ministry. He followed Him on His journeys and witnessed the healings, the deliverances, the other miracles, and even witnessed the devil cast out. How a power greater than the devils was overcome by Christ. He sat at the table eating with Him and listening to truth that Christ knew all about his plot against Him and yet betrays Him anyway.
B. By Christ's other Disciples who said they loved Him, would die with Him, and never forsake Him. They, like Judas, witnessed all the works of Jesus. Yet they all fled and left Christ alone to be falsely tried, found guilty and crucified.
C. He was betrayed by the Church whom He came to help set in order. The Priests, workers in the Temple, leaders, and many of the religious people of the day; all betraying Him by refusing to believe Him.
2. Surrender came first in the Garden as Jesus prayed the prayer of surrender teaching us to the importance of seeking God's will. Surrender in His silent voice as false accusations were leveled against Him. Surrender as He willingly laid down His life to die for us. No one took His life, He surrendered it willingly.
3. Forgiveness – We usually think of His sacrifice which brings us our forgiveness, which it does. But there is more to forgiveness in the Easter story. There is forgiveness as Peter denied Him for the third time and sees the face of Jesus in the judgement hall causing Peter to go weep bitterly. The forgiveness as the those who betrayed, lied, denied, mocked, beat, and crucified Him with the words in Luke 23:34 "Then said Jesus, Father, forgive them; for they know not what they do. And they parted his raiment, and cast lots." How He taught us our need of forgiveness and our need to learn to forgive.
4. Restoration – Jesus reconciled us back to God and brought us by adoption back into the family of God. We can be God's sons and daughters and heirs and joint-heirs with Christ.
5. Promises – Jesus promised He would die and live again and He most definitely accomplished that feat. A promise also that the Holy Ghost would soon be given to the believers which we know too was fulfilled. He promised us on the Mount of Ascension that I will come again and we know He keeps His promises. He is coming back to get His believers.
6. Hope – I now have hope! You have hope! The hope of salvation, deliverance, and the hope He can give us an answer to any of our problems. We are living with a promise of hope from a Savior to whom "nothing is impossible."
Easter! Yes, teaches us so much about what we need to know to live our lives here on the earth and the glorious hope that we have the eternal life of Heaven to look forward to.
Have a happy Easter everybody!
In Christian Love,
Pastor Bruce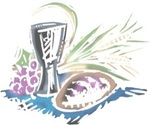 March Communion: March 25 (PM)

March Greeters
Debbie Dixon
Sharon Herron

Special Need: Greeters are Still Needed!
We still could use 3 or 4 more people.