PASTOR'S NEWSLETTER

The Summer is in full swing now! It sure has been a busy one with the Holiness Revival, VBS and now with Mount of Praise Camp Meeting beginning this week. But it has been a good one for the Church.
The Holiness Revival was one of the most anointed events we have experienced for a while. There were several to the altar for Spiritual renewal and one person Sanctified. This really energized many people for the work of the Church. The singing was really anointed and a blessing in every service. On Sunday morning, Red Bridge Revival did a tremendous job in worship. The service was so uplifting and anointed. Each message was anointed and addressed a different aspect of Holiness. All agreed together and proved the work of the Holy Spirit.
The next week followed with our VBS. This was the most anointed VBS we have experienced. Everyone worked together and the lessons, skits, and songs were anointed. We saw 23 young people accept Jesus as their Savior. No more effective Bible School we could have than to see children saved. Thanks for everybody who had a part in it.
Now the rest of the summer involves our youth camps and Camp Meetings; a continual amount of opportunities for both young and old to experience both Spiritual renewal and find Spiritual help.
I am afraid we are getting to a place today where we are afraid to admit when we have a Spiritual need. Not only in having sins forgiven, but responding to Spiritual light, going on into a second definite work of grace in Holiness or getting help in time of troubles in our life. It may be some times we find it hard to face the truth of our needs; or it could be something that I have been hearing some talk about and even some articles being published about it – and that is people are becoming afraid to publicly seek him. Because of the "other people being nosy to the reason people come to pray about", "fearing and possibly facing, judgmental or critical attitudes of others", and "some saying they have no confidence in someone who goes to an altar very much." I find all these as very sad reasons that people would feel and/or say these things over someone seeking help. I made my own assumption here, that the person doing such to an altar seeker is they probably have a bigger need than the one at the altar. The person at the altar can help, while the critics never will receive help.
I do not know about you but I find I need the altar every once and awhile. An altar should be a safe place for anybody to come sincerely to seek the help of the Lord. And make no judgments of someone who does come, because the day may come when you will need to go for yourself. A person should be able to stay at the altar until they have an assurance of victory. This is what Church is all about to find the answer to our Spiritual needs at Church. If anyone needs help, or wants to talk to the Lord, that Christ paid for that right for us to go and pray. That is why whenever I preach I always give people an opportunity to come and pray. My dad used to say "it was like fixing a meal, setting it on the table, and not inviting someone a chance to eat," So we should take the opportunity to use the altar when we need to, or want to. It says in Hebrews 13:10 "We have an altar". It means "We", all who want and need it and "an Altar" a place to meet God. Jesus became our altar. So do not feel afraid to seek help at the altar when you need it.
Well let's enjoy the remainder of our summer. Enjoy your normal activities and continue to take advantage of our opportunities for Spiritual renewal.
In Christian Love,
Pastor Bruce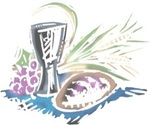 July Communion Helpers: July 30 (PM)

July Greeters:
Randy & Kristie Minnix
Donna Cottrill
Special Need: Greeters are Still Needed!
We still could use 3 or 4 more people.