PASTOR'S NEWSLETTER

A time of Thanksgiving! Are we ready? The time when we solemnly recount the many blessings God has bestowed upon us. How much has He blessed your life with? Truly when it comes to a time to reflect upon our blessings, both old and new, we may be overwhelmed with all He has done. But we need to be thankful. Often because of the trials and hardships of life we have a tendency to focus more on them than our blessing. Often our worries become more of our attention than our blessings. So, there must be a focusing on the blessings and not the worries or troubles.

We find that when we begin to focus on our blessings we are often encouraged by what we see God has done.
The old hymn "Count Your Many Blessings":
When upon life's billows you are tempest-tossed,
When you are discouraged, thinking all is lost,
Count your many blessings, name them one by one,
And it will surprise you what the Lord has done.
Refrain:
Count your blessings, name them one by one,
Count your blessings, see what God has done!
Count your blessings, name them one by one,
Count your many blessings, see what God has done.
By looking at blessings it refreshes us with the memory of how Great our God is. It reminds us if God has performed this before for us, He can do it for us again.
We find we begin to renew our faith in God. Our God is a God than has all power to provide for us. Luke 12:28 "If then God so clothe the grass, which is to day in the field, and to morrow is cast into the oven; how much more will he clothe you, O ye of little faith?" So, we must renew our faith and trust in God.
We find we begin to put more effort into living to please God. It is when we live and please God that we know we will receive the blessing of God. Hebrew 11:6 "But without faith it is impossible to please him: for he that cometh to God must believe that he is, and that he is a rewarder of them that diligently seek him." So, we are assured by our faith in God and seek God's will that God will indeed bless us.
We find with Hebrew 11:6 that God is always findable when we "diligently seek Him". We know we will find Him when we need Him and when we will seek after Him. What a great blessing that we can count when we know we have God within our reach at all times. He promises us that He is a God at hand. Jeremiah 23:23 "Am I a God at hand, saith the LORD, and not a God afar off?"
This Thanksgiving is a time we need to recommit to becoming a thankful person. We usually talk about this every year of being a "thankful person" but often like New Year's resolutions we fail to continue faithfully in them. Then all of a sudden we realize we have slipped in our giving of thanks and need to start giving thanks again. Somewhere between the Turkey and dressing and the pumpkin pie let us remember to give thanks to the giver of blessings – God!
Enjoy all of your family and friends this Thanksgiving season and give thanks for them. You never know if you will have another opportunity eat together, pray together, or visit together. Thank God for your blessings and let God know you love Him.
Happy Thanksgiving!,
Pastor Bruce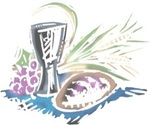 November Communion Helpers: November 26 (PM)

November Greeters
Barbara Delmoe
Marsha Delmoe
Special Need: Greeters are Still Needed!
We still could use 3 or 4 more people.