PASTOR'S NEWSLETTER

It is Revival time! Our Holiness revival will begin Wednesday night and will conclude on Sunday. It is a time to begin a focus upon the doctrine of Sanctification. This a principle part of the Churches of Christ in Christian Union and our Church. I knew when I answered the call to preach in September 1977 that I would be a Holiness preacher. I know how impactful the experience was in my life. I feel if I had not experienced being Sanctified I would not have remained a Christian much longer. I know when the Holy Spirit filled me there was such an experience of His presences and control in my life. I knew I wanted to preach the truth of Holiness for others to experience. I have given much study to this Doctrine and explaining the experience in a simple, and yet, powerful way. There is truly no end to the depth of Holiness we might attain to. So I want to keep on preaching Holiness.
The doctrine we view as a second definite work of grace. James 4:8 Draw nigh to God, and he will draw nigh to you. Cleanse your hands, ye sinners; and purify your hearts, ye double minded.

The doctrine is also instantaneous experience. Acts 2:2 And suddenly there came a sound from heaven as of a rushing mighty wind, and it filled all the house where they were sitting. (3) And there appeared unto them cloven tongues like as of fire, and it sat upon each of them. (4) And they were all filled with the Holy Ghost…

The doctrine is also a progressive experience. 2Pe 3:18 But grow in grace, and in the knowledge of our Lord and Saviour Jesus Christ. To him be glory both now and forever. Amen
This is the experience we will be preaching during this week. I personally believe this is one of the greatest needs of this day; the greatest need of our soul, the greatest need of our Church and the greatest need of our Nation. I pray you will take these services seriously and try to attend as many as you can that your life will be greatly blessed. Be much in prayer for all of these services.
VBS! Oh want a fun time this is during the time of the hot summer we are having "Operation Arctic". This sounds like another great VBS from Answers in Genesis which always has strong Biblical truth and a strong scientific lesson in harmony with the Bible. If you want to get involved I am sure Kathy Uhrig will find a job for you to do. Just ask her where she can use you. We can use donation of items, phone calls, and most of all prayers.
Our annual Mount of Praise Camp Meeting will be in June as well. This is always a great time of Spiritual growth that we need to take a part in. With the preaching Of Doug Carter and Doctor Thomas Hermiz can pretty well assure you that you will hear some Holiness preaching too.
Of the course the summer brings a lot of fun times to enjoying the warm weather. There will only be so much time when the children will be out of school that you want to be sure and jam in as much enjoyment with them you can. And of course, you never know when cold weather will hit us again. So, have fun! Catch a fish! Take a boat ride! Watch a game! Or just take a nice walk in the sun. So much to do! But let us have a great revival to set the tone for a great summer. God be with you all.
In Christian Love,
Pastor Bruce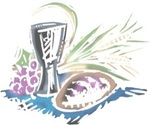 June Communion Helpers: June 25 (AM)

June Greeters:
Barb Delmoe
Marsha Delmoe
Special Need: Greeters are Still Needed!
We still could use 3 or 4 more people.