Up-Coming Events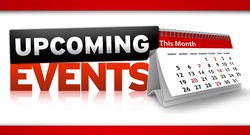 EVANGELISM OUTREACH
Saturday, September 9 – 7:00pm
Prayer at the Church for "Back to Church Sunday" on September 17
September 11 – 15
Contact week for Revival and "Back to Church Sunday"
September 16th – 9:00am
Prayer Breakfast for Revival
Following the Prayer Breakfast we will be going on visitation. We will concentrate on visitation for both Revival and "Back to Church Sunday"
Sunday, September 17
"Back to Church Sunday"
Tuesday, September 19 – 7:00pm
Cottage Prayer Meeting for Revival
Tim & Beth Parrett
1740 Blacksmith Hill Road
Tuesday, September 26 – 7:00pm
Cottage Prayer Meeting for Revival
Rev. Bob & Sarah Jones
772 Orange Street
Sunday, October 1
"24 Hours of Prayer Sunday for Revival"
Monday, October 2
"Day of Fasting for Revival"
October 3 – 8
"Fall Revival"
Evangelist: Rev. Bud Allman
Singing: Olaf & Helen Dunn (Friday – Sunday)
*HOMECOMING - Sunday, November 5
I am sure Cindy Catron mentioned in Missionary Minute that High Street will be a Regional Distribution Center for Operation Christmas Child this year in addition to collecting shoeboxes. Boxes will be delivered earlier for this event.
Therefore we will be moving Homecoming from November 12 to November 5.
We will be posting more information on Homecoming in the weeks to come. The ECL group will be fixing dinner and in the afternoon and we will have singing and a baptizing. If anyone is interested in being baptized please let Pastor Bruce know.